Eye Bright Serum with Eyeliss™
$57.95
Our Eye Bright Serum is a deep conditioning gel formulated with Coffee Berry Extract and Eyeliss™ to combat puffiness and dark circles. Eyeliss is a peptide complex of Palmitol Tetrapeptide-3(7) and Dipeptide-2 formulated to improve lymphatic circulation and detoxify skin.  Coffee Extract firms and tightens the surface of skin through constriction.
Size: 1 fl oz.(30 ml)
In stock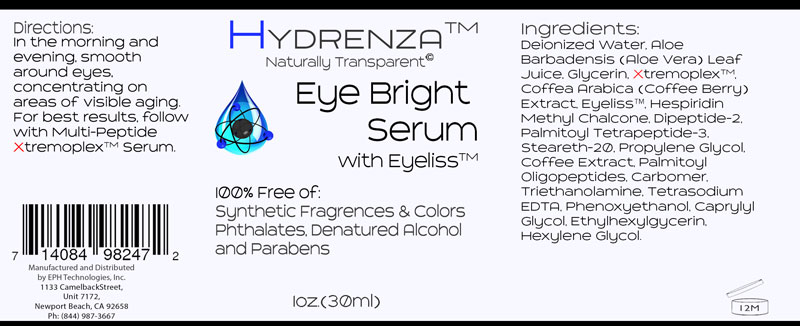 In the morning and evening, smooth around eyes, concentrating on areas of visible aging. For best results, follow with Multi-Peptide Xtremoplex Serum.
XtremoplexTM – Proprietary natural blend of proteins, enzymes and amino acids that help enhance transdermal beneficial ingredient delivery.
Eyeliss™ – Helps prevent puffiness and reduces bags under the eyes by using three active molecules: hesperidin methyl chalcone, dipeptide VW and lipopeptide Pal-G; also improves firmness and elasticity
while decreasing the inflammatory effects of tiredness and hypertension as well as the natural effects of aging which contribute to the formation of bags under the eyes.
Coffee Extract – A naturally potent antioxidant.
Coffea Arabica (Coffee Berry) Extract -Reduces redness, while firming and tightening the surface of skin through constriction.
Deionized Water, Aloe Barbadensis (Aloe Vera) Leaf Juice, Glycerin, XtremoplexTM, Coffea Arabica (Coffee Berry) Extract, Eyeliss™, Hesperidin Methyl Chalcone, Dipeptide-2, Palmitoyl Tetrapeptide-3, Steareth-20, Propylene Glycol, Coffee Extract, Palmitoyl Oligopeptides, Carbomer, Triethanolamine, Tetrasodium EDTA, Phenoxyethanol, Caprylyl Glycol, Ethylhexylgycerin, Hexylene Glycol.