Multi-Peptide Xtremoplex Serum
$83.95
Our Flagship product, the Multi-Peptide XtremoplexTM Serum, is formulated with the highest concentration of XtremoplexTM, our proprietary blend of proteins and enzymes, which helps enhance transdermal beneficial ingredient delivery.  The Serum is also enriched with naturally-potent, super-antioxidant Coffee Berry Extract to moisturize, correct, and protect delicate skin and bio-peptides that restructure the dermal matrix causing firming and anti-wrinkle action while increasing suppleness and the skin's capacity to produce collagen.
Size: 1 fl oz.(30 ml)
Only 5 left in stock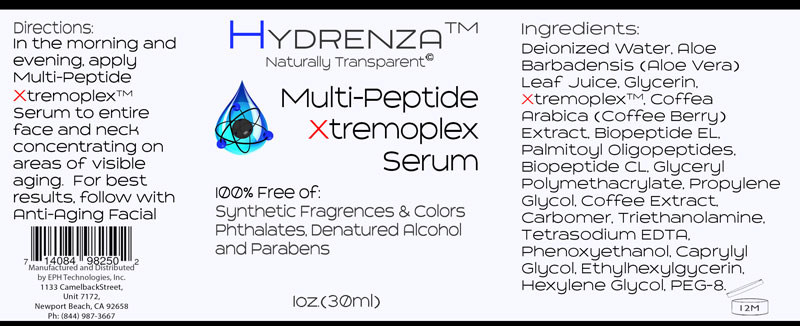 In the morning and evening, apply Multi-Peptide XtremoplexTM Serum to entire face and neck concentrating on areas of visible aging.  For best results, follow with Anti-Aging Facial Cream.
BIOPEPTIDE CL – Stimulates collagen (as demonstrated in vitro and ex vivo) and glycosaminoglycan synthesis; its activity stands comparison with retinoic acid and is thus recommended for the restructuration of dermal matrix (firming and anti-wrinkle action); protein and glycan neosynthesis, enable skin to grow thicker, firmer and become smoother; the production of extracellular matrix also protects skin against UV rays.
BIOPEPTIDE EL – Dermal restructuration based on cell communication; the chemotactic effect of VGVAPG potentiates the fibroblasts activity of macromolecules synthesis.
Biotin – A key component in the maintenance of healthy hair, skin and nails. Its importance cannot be underestimated due to its key activity as an essential co factor.
Coffee Extract – A naturally potent antioxidant.
Coffea Arabica (Coffee Berry) Extract -Reduces redness, while firming and tightening the surface of skin through constriction.
XtremoplexTM – Proprietary natural blend of proteins, enzymes and amino acids that help enhance transdermal beneficial ingredient delivery.
Deionized Water, Aloe Barbadensis (Aloe Vera) Leaf Juice, Glycerin, XtremoplexTM, Coffea Arabica (Coffee Berry) Extract, Biopeptide EL, Palmitoyl Oligopeptides, Biopeptide CL, Glyceryl Polymethacrylate, Propylene Glycol, Coffee Extract, Carbomer, Triethanolamine, Tetrasodium EDTA, Phenoxyethanol, Caprylyl Glycol, Ethylhexylgycerin, Hexylene Glycol, PEG-8.